Join us at Legends of Lindale for a Local Medicare & YOU discussion. Learn all about the benefits of a CHRISTUS Health Plan has to offer for 2022. Medicare-eligible members of our community are invited to visit with a CHRISTUS Health Plan representative to learn more about our value-added benefits.
This event is hosted by Cunningham Insurance at Legends of Lindale is located at 117 Legends Ct. Lindale, TX 75771
RSVP Appreciated: Cunningham Insurance 903.763.9015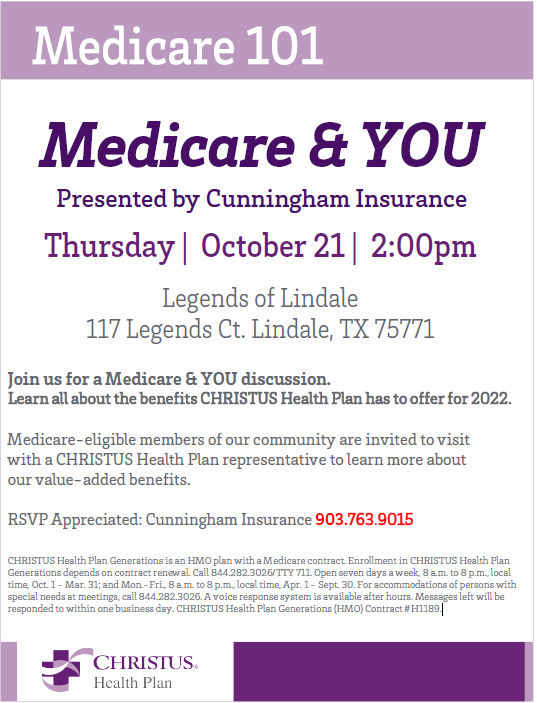 CHRISTUS Health Plan Generations is an HMO plan with a Medicare contract. Enrollment in CHRISTUS Health Plan Generations depends on contract renewal. Call 844.282.3026/TTY 711. Open seven days a week, 8 a.m. to 8 p.m., local time, Oct. 1 – Mar. 31; and Mon.-Fri., 8 a.m. to 8 p.m., local time, Apr. 1 – Sept. 30. For accommodations of persons with special needs at meetings, call 844.282.3026. A voice response system is available after hours. Messages left will be responded to within one business day. CHRISTUS Health Plan Generations (HMO) Contract #H1189.